Company
C-B Gear & Machine is one of the most diverse gear manufacturers in the country. We specialize in high quality ground gearing up to 1.8 meters in diameter. We also provide gear cutting up to .667-diametral pitch and a maximum turning and hobbing diameter of 20-feet. Our shop encompasses 90,000 square feet, with eve heights of 26 feet with a maximum crane capacity of 30 tons. We have a wide array of machines including Gear Hobbers, Gear Grinders, Gear Shapers, Bevel Gear Machines, Worm Grinders, and Herringbone Gear Machines. We are currently servicing industries such as oilfield, steel, sugar, cement, mining, power generation, petrochemical, and pulp & paper. Additionally, we are a gearbox repair facility that repairs and tests gearboxes of all makes and models, and are ISO 9000 compliant.

American Made and Family Owned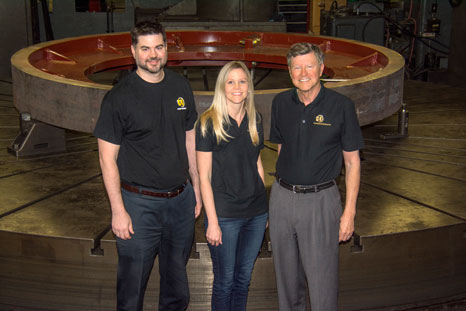 QUALITY IS OUR FIRST PRIORITY
Quality Inspection Wet magnetic particle inspection is performed on every gearset that comes to C-B Gear and Machine before repair work begins.
Quality Evaluation Housing and bore alignments are checked using the industry's most technically sophisticated equipment.
Quality Assurance Precision inspection verifies that all repair work meets or exceeds customer specifications.